— By David Ramirez and John Prall —
Have you disconnected your refrigeration equipment during quarantine? Check the measures to protect your equipment when turning it back on.
During these times of coronavirus pandemic, quarantine and lockdown procedures, many foodservice businesses have had to shut down for a while or had their demand strongly reduced. As a result, some may have chosen to disconnect their equipment to save energy. In this case, there are some easy measures that can be taken to protect your investment.
If the equipment will not be used for many days, disconnecting it ends up being the proper choice. Here are some recommendations:
Standalone equipment — such as an upright freezer, undercounter or prep table — are very easy to shut down and power back on. It's part of its normal daily cycle to have the system shut down throughout the day. Of course, it generally occurs only for a few minutes at a time and not days. Whereas remote systems almost never are off and require a technician to decommission and recommission them if they are to be shut down.
If possible, after shutting down, take the opportunity to make any maintenance needed in the equipment.

Before restarting, it is recommended to clean the condenser and evaporator, because the accumulated dust affects the equipment's normal operation and can elevate energy consumption.

When restarting it after a long period of time, there are two things that may occasionally happen: a longer time to reach the design temperature and an elevated energy consumption, which is normal in this situation.
It's a good idea to allow the cabinet to achieve design temperature before stocking the product so as not to overload the equipment and increase pull down time unnecessarily. The compressor works hardest during a hot pull down and typically will remain at full load amperage until reaching the correct temperature.
If you must restart the equipment with a big stock of product, then, after doing so, don't turn it off again for at least 24 hours. It is also advisable to allow the equipment to reach a stable condition of temperature before putting more product inside it again.
The most important thing to consider when restocking equipment that has been off is that the product going into the cabinet is at temperature and not too warm or it will take very long to reach the appropriate temperature.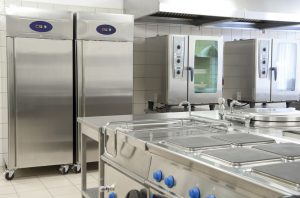 To conclude, it is important to have in mind that disconnecting equipment to save energy is not always the best choice if it is only for short periods of time. Normally, you imagine that will improve the energy consumption of your equipment by shutting it off in moments of lower demand, such as during the night. But in this case, we have to take in consideration that when we disconnect a piece of equipment, the internal temperature tends to get higher and when turning it on again, it will require a lot more energy to pull down the temperature. This temperature variation also accelerates the decomposition of food and beverages, so the recommendation, in short period situations, would be to put the equipment in economy mode and not to turn it off.
— David Ramirez and John Prall are application engineers at Nidec Global Appliance, holder of the Embraco brand. Since 1971, Embraco has been a global reference in technology for the complete domestic and commercial cold chain, counting on a broad, efficient and competitive portfolio for household, foodservice, food retail, merchandisers and special applications. Embraco is part of Nidec Global Appliance, a division of Nidec Corporation. For more information, visit www.embraco.com. With over 14,000 employees across eight countries, Nidec Global Appliance manufactures and commercializes Embraco's cooling solutions for a variety of refrigeration applications, as well as motors for dishwashers, washing machines and dryers. The division is part of Nidec Corporation, a global leader in motors and components, with headquarters in Japan. For more information, visit www.nidec.com.
classic-editor-remember:

classic-editor

abkw-text:
Tagged under