Mendota Heights, Minn. — Restaurant Technologies (RT) and its Total Oil Management solution was recognized as the Vendor of the Year at the KFC Northwest Franchisee Association (KFCNWFA) conference held in Waikoloa Village, Hawaii, in early November. The award recognizes vendors who have set themselves apart through superior support and service, and enables KFC franchisees to deliver on the promise of consistent and reliable food quality.
"We are honored to be recognized as the Vendor of the Year by such a valued partner," says Curt Morford, national account executive for RT. "We look forward to supporting KFC and Yum! Brands as they set new standards and reach new heights in the quick-service restaurant industry."
Morford accepted the award at the joint regional conference that included the Southern California region of KFC franchisees (KFCSCA). Another "Vendor of the Year" award is then presented at its national conference. The northwest association currently includes 23 franchisees with a total of 410 KFC locations.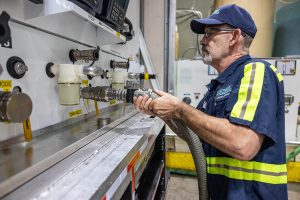 "Restaurant Technologies has changed the way our businesses operate," says Daniel Jackson, manager at Graja, Inc., a company that operates multiple KFC locations in the Northwest region. "It's automated oil management system provides a safer workplace for our employees and has allowed us to better utilize our employees by eliminating some of the messiest jobs in the kitchen, which has been invaluable to us in such a tight labor market."
RT was previously recognized by the Upper Midwest KFC franchisee association as its "Vendor of the Year" for its Total Oil Management Solution.
Restaurant Technologies is the leading foodservice industry partner, proudly serving more than 34,000 quick-service and full-service restaurant chains, independent restaurants, grocery delis, hotels, casinos, universities and hospitals nationwide. Total Oil Management automates the cooking oil process from storage and handling to filtration, monitoring and disposal of used cooking oil. AutoMist® automates hood and flue cleaning, and Grease Lock® hood filters slow grease buildup. Headquartered in Mendota Heights, Minn., Restaurant Technologies is a privately held company and currently operates 41 depots. For more information, visit www.rti-inc.com.
SOURCE: Restaurant Technologies