— By Katie Lee —
KFC eyes 2022 with a new, urban-oriented evolution of its prototype design, focused on customer convenience and digital efficiency.
When Retail & Restaurant Facility Business last featured KFC on its cover, the year was 2018 and a new design called 'American Showman' was rolling out, marking a new era of expansion for KFC following 10 years of downsizing. At the time, the company's U.S. development goal was to become a 5,000-unit franchise once more. Now, 3 years and a global pandemic later, approximately 70% of the company's 4,000 U.S. restaurants sport the American Showman design. Meanwhile, COVID-19 has accelerated and amplified consumers' desire for a fast, frictionless food experience, leading to a new evolution of the KFC prototype.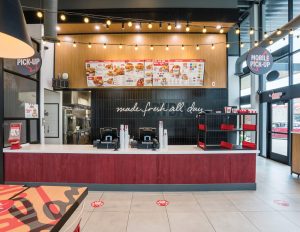 With its new urban inline design, KFC will accelerate development efforts in more densely populated urban areas throughout 2022 in an effort to serve a younger and more diverse customer. Traditionally a brand known for its suburban footprint — and its drive-thrus — KFC plans to enter real estate that might not allow for a traditional drive-thru model. Still, with urban development now in the pipeline, KFC is well on its way to 5,000 units.
"It's obvious that 2020 was very different for everyone," says Brian Cahoe, chief development officer of KFC, a subsidiary of Louisville, Kentucky-based YUM! Brands. "We had a bit of a slowdown in our new and remodel pipelines last year, but we're extremely excited to say that we've fully rebounded here in 2021. We're back on our remodel pace, and our new build pace is back on the trajectory that we were on at the end of 2019 before the pandemic hit."
In addition to growth, KFC has kept the focus on what it does best: creating a fast, frictionless experience thanks to travel-friendly food products and packaging (think: a bucket of Colonel Sanders' Original Recipe fried chicken), optimizing the efficiency of its drive-thrus, fully integrating third-party delivery, launching a new mobile app and more. The new restaurant design promises to delineate a new chapter in KFC's post-pandemic plans: infill urban areas as well as non-traditional real estate such as airports, stadiums, concert venues and college campuses.
With the pandemic finally receding, KFC eagerly eyes 2022 and aims to open 100 or more new restaurants in the U.S. next year. Well on its way to meeting this goal, the brand has opened new urban restaurants in St. Louis, New York (Queens, Harlem and Chinatown) and California (Baldwin Park).
A key component of KFC's Next Gen design is its focus on accessibility and convenience — which pairs well with both urban markets and with post-pandemic consumer desires. The concept is designed to serve the on-the-go mentality of customers and will incorporate digital innovations, such as its Quick Pick-Up service: a new service aimed to relieve wait times for customers and delivery drivers via mobile order ahead and pickup features.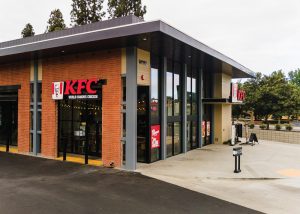 "What you're seeing initially in some of the larger, urban markets in the U.S., the brand is under penetrated relative to the population that lives, works and plays in those areas," says Cahoe. "We understand that we're under penetrated, but we see that as a massive opportunity for the brand to grow in those areas where the consumer can't access KFC in any form today. That's why you're seeing those first openings are in those urban markets."
"The urban core often is younger and more diverse than more suburban America might be," Cahoe continues. "So if we're under penetrated in those environments, the consumer has no way to access the brand. They might see an ad on TV, but there's no physical location to go access the brand. Opening restaurants in those environments, by definition, brings accessibility to the brand — and also makes it very convenient."
While the first urban inline locations are in more densely populated cities, along with Cincinnati-based architectural and design firm, NELSON Worldwide (formerly FRCH NELSON), KFC also created the brand's first freestanding (with a drive-thru) Next Gen prototype, which is under construction in suburban areas as well. The first of those drive-thru locations is expected to open in Berea, Kentucky, by the end of this year.
"It's a natural course for us as we get a number of years into the depth of refreshing the estate [with American Showman] that we would start to work on what comes next," explains Cahoe. "That's the effort we started in 2019, before the pandemic hit, and then paused a bit last year, and now you're seeing that come to life in 2021. Our approach will be to get those first locations open, get some feedback from our franchisees, make some tweaks and adjustments. Then as we finalize that design, we'll start to transition over to that as the go-forward design and start to sunset the American Showman concept."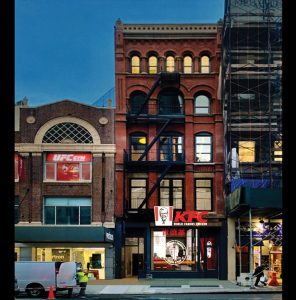 The sun may soon set on American Showman, but the urban inline and Next Gen prototypes promise to drive the brand onward and upward with a better guest experience and more seamless transactions. To that end, KFC is investing significantly in new digital technology, including partnerships with all the primary delivery aggregator companies, online ordering and a new mobile app, fully integrated POS, as well as a brand-new KFC Quick Pick-Up feature that just launched this month. Guests can order ahead, pay online, drive up to a designated parking spot and run inside the restaurant to grab their food — essentially skipping the line.
"Whether these new prototypes are freestanding drive-thru or urban inline, we are optimizing the designs from back of house operations as well as for consumer access," says Cahoe. "They are both focused on that ability to make off-premises access to the brand through those channels as easy and as frictionless as we can."
Off-premises access is something all restaurant brands have been honing and sharpening this past year and a half. (And, it can be said, the pandemic certainly proved the value of the drive-thru!) In addition to drive-thrus, Cahoe predicts other convenience/access upgrades will outlast the pandemic.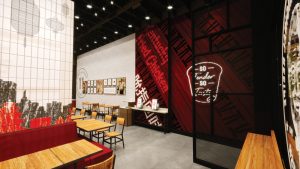 "[What we learned about] the consumer desire for quick, easy access to the brand is one of the things that I think will stick around," says Cahoe. "The owned channels — KFC.com and the KFC app addition, full integration of the delivery aggregator companies — all happened at the beginning of the pandemic or early thereafter. As that channel mix has grown in our business over time, we fully expect that sticks and carries forward and grows for us. I think delivery, Quick Pick-Up and all those easy access channels to the brand are here to stay."
For an industry battered and bruised by the pandemic, but finally emerging from the fog, it can still be discouraging to maneuver many of the residual side effects that remain. The restaurant industry continues to face labor shortages, supply chain issues and rising food costs — yet Cahoe is optimistic for the new year.
"I feel extremely positive about next year," declares Cahoe. "I will also say that I fully expect that those challenges will likely continue throughout all of next year. Our business has been more than resilient — showing great momentum. We've also launched great new products, like the KFC Chicken Sandwich, our new Secret Recipe Fries, and some great new boneless products that we didn't have before the pandemic. I fully expect that we'll continue to do the best job possible maneuvering whatever challenges and changes come our way."
In addition to rolling out its new prototypes, KFC will restart its focus on non-traditional development. As we know, airport retail, stadiums and concert venues, as well as even college campuses, took a huge hit during the pandemic. People weren't flying or attending games or concerts; in many instances even colleges and universities were limited to a remote connection. It will take time to ramp those efforts back up, but KFC is ready to get that ball rolling again.
"Absolutely, non-traditional is part of our path to 5,000 and beyond," says Cahoe. "It's another example of making sure the brand exists and is successful in those areas where there's a younger consumer. That there is brand awareness in that type of format and making sure the brand continues to grow."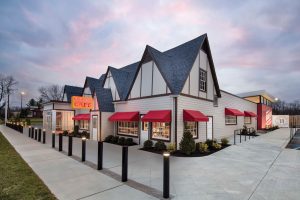 As KFC continues its climb toward 5,000 units, Cahoe is just the right veteran development chief to take them there. Cahoe, in his 23rd year with YUM! Brands, still finds day-to-day joy in working with franchisees that are more like family and leading a world-class development team.
"A lot of my energy and focus day in and day out is on the people side of the equation," he explains. "As someone in the development space for a long time, that's one of the things that still excites me the most: I get to work on things that go from a conceptual idea to a rendering on paper to something that's actually built in the real world. There's just a lot of satisfaction when you get to see that whole journey play out and, at the end of it, you have a tangible, physical [facility] that the team has built."
And the beneficiary of those new builds and remodels, in the end, is the next generation of KFC consumers.
— This article originally appeared as the cover story of the November 2021 issue of Retail & Restaurant Facility Business magazine. Email the editor, Katie Lee, at [email protected].