— By Sean Gillespie —
5 important reasons you should repaint your commercial building.
When it comes to building a solid, consistent image, many owners overlook the power of paint. A good paint job can have a direct impact on your marketing efforts by creating a sophisticated look and feel that makes your business more inviting to potential clients. There are lots of reasons that painting your commercial building is beneficial, so let's dive into the details.
First Impressions Matter
A person's first impression of something is influenced by surface characteristics, primarily physical appearance. If your business is in a high-traffic area, your building's exterior image is the first thing people will see and is the first thing they will draw an opinion about.

If your building has chipped or peeling paint, dull or faded colors, or is covered in grime from outside elements, they're probably going to think, "No thanks," and walk on by. People are drawn to pleasant aesthetics because they subconsciously correlate that with a pleasant experience. Repainting the exterior of your building creates a clean and professional image for your business that will entice potential clients to come inside.
An important thing to remember — your professional image shouldn't stop at the front door. The inside of your building should be just as clean and professional as the outside. Repainting the interior of your building creates consistency and ensures that the client continues to have a positive impression of your business. Potential customers pass your building every day, so it's important to make a good first, and sometimes lasting, impression. Repainting is an easy way to accomplish this.
Rebranding
As your business evolves, so does your image. Different generations of consumers like different things, so aesthetics that may have been popular when you first opened your business may not be the aesthetics that appeal to clients today. For example, many businesses painted their buildings in warm, vibrant colors whereas today's trend shows them switching over to more neutral colors like white, black and gray. Whatever your rebranding efforts entail, a more modern paint scheme helps your image appeal to the newest group of consumers. And let's face it, today's consumers are significantly different than those in the past.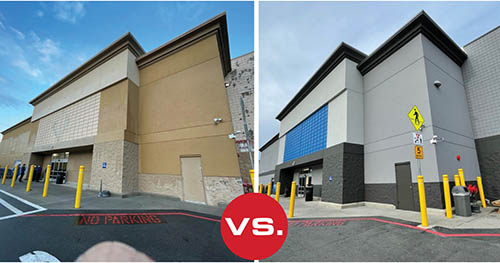 Millennials and Gen Z make up more than 40% of the U.S. population, and their consumer behavior differs from that of Gen X and Boomers. Although the Gen Z group was born into the digital age, meaning they've never known a lifestyle without technology, their preference for online shopping vs. in-person shopping was almost evenly split, with 47% preferring to shop in a brick-and-mortar store. However, Gen Z has proven to be a high maintenance group that has higher expectations when it comes to their retail experience. Having grown up with the ability to get information in a matter of seconds via the internet, consumers that fall in the Gen Z category typically are not loyal to any particular brand and will easily move on to the next if their experience with a business is not to their standard.
In 2022, Millennials were the largest generation group in the U.S., but as it goes, Gen Z will eventually surpass Millennials as the largest group. This is why it's so important for your business to have a modern, sophisticated image. Rebranding your facility can help your business get better aligned with the expectations of the growing consumer groups to keep them coming through your doors.
Work Environment
Your image doesn't only impact your customers and clients, but also your staff who are there day in and day out. A superior interior design can actually impact the productivity and performance of your employees. Research has shown that colors not only affect an employee's mood while they're at work, but also how productive they are.
For example, it has been determined that blue is a great choice for those working in a demanding, fast-paced environment as it evokes feelings of calmness and doesn't distract from the work at hand. Yellow is said to be the color of creativity, known to project feelings of enthusiasm and is often preferred for businesses that require collaboration idea-sharing. Red is considered a power color, boosting employee stimulation and enhancing attention to detail.
Whatever color palette may coincide best with your business, repainting your interior can also easily boost employee morale by making a change to the mundane. A team member walking into a freshly painted store or office may feel excited and reenergized, which leads to a more positive work experience.
Protecting Your Property
Cyclical exterior painting is an essential aspect of preventative maintenance. While exterior paint has a long lifespan, it is still exposed to elements that can cause damage to your building. Repainting your facility on a regular basis protects against a variety of things like water damage, rotting wood, rust/corrosion, pests, ultraviolet degradation and inclement weather like hail and harsh winds or rain.
A one-and-done paint job is not the best option to keep your building from deteriorating, because eventually that paint is going to get damaged. The longer you go without addressing the damage, the more serious and expensive the repair is going to be. Repainting on a cyclical schedule is a cost-effective investment. It is the first line of defense in protecting your building and can save you thousands of dollars in repairs.
Market Value
If you come to a point where you need to sell your commercial property, a well-maintained, aesthetically pleasing building has a much higher market value than others. Curb appeal is one of the biggest deciding factors to potential buyers as it determines how much time, money and resources they will have to put into the building right off the bat. A professionally executed paint job makes your property stand out in comparison to those that are grimy with peeling paint and faded colors. Additionally, fresh interior paint helps buyers better visualize layouts that are possible in each space. Repainting both the exterior and interior is an excellent investment in your building's future resale value.
Call the Professionals
As business owners and managers, you know your storefront image is as important as the product or service you provide. Renovations like repainting are a necessary part of adding value to your property and attracting new customers.
We are not just another painting contractor, we are your image consultants. For over 28 years, we have provided commercial painting and facility maintenance services to clients on both a local and national level. We have built and solidified our relationships with industry partners and employ a team of project managers and field crews that perform and execute at a high level.
We strive to enhance the image of the commercial painting industry by differentiating ourselves through one basic principle: doing what we say we will do. If issues arise, we work quickly and efficiently to resolve them, and ensure that we maintain constant communication with our clients to facilitate an easy, seamless project experience.
We're more than just your painter, we're your partner.
— Sean Gillespie is director | strategic alliances for Harrison Contracting Company, Inc. With more than 35 years of experience in the paint industry, Gillespie joined Harrison in June 2018. Harrison has been working in the retail segment helping execute multi-site repaint programs since 1995. Harrison can help consult and/or operationalize your cycle or reimage painting program. For more information, visit www.harrisoncontracting.com.