Advantages of sustainable practices and green roofs.
By Bill Lomel
People often have different meanings for the term, "green roof." For some, it simply means the roof must have a sustainability component, while others consider vegetative roofs "green."
No matter what your definition of a green roof is, there are many ways to ensure your store or restaurant is being as sustainable as can be by working with certified roof experts, staying updated on the latest trends and determining what makes sense for your building. Sustainable design can extend the life of your roof and lower your power bills, as well as reduce your carbon footprint.
Here are four things you should know about green roofs.
Reflective Surfacing
Reflective surfacing — or cool roofs — are another way your building can remain sustainable. Consider this: standard roofs may reach temperatures of 150 degrees or more in the summer, and depending on the insulation of your building, your customers may be the ones feeling the heat. Buildings with cool roofs stay more than 50 degrees cooler and save energy and money under the same conditions.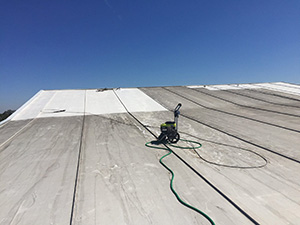 Reflective surfacing does exactly what you think: reflects sunlight and absorbs less heat. With less heat being absorbed through your roof, you'll see reduced energy bills and increased comfort levels inside your retail or restaurant space. Cool roofs may extend roof service life as well, leaving one less thing for you to worry about.
If you don't currently have a cool roof, take the time to see if the cost of installation will be justified by the energy savings. If your roof is already in good shape, consider retrofitting it with specialized heat-reflective material or recovering the roof with a new waterproofing surface — such as tile coating. If your roof is already at the end of its life, replacing it with a cool roof may be best.
Reuse Roofing Materials
If it is time for a new roof, talk to your certified roof expert about recycling and reusing your roof components. Each reused item is one you don't have to buy or send to the landfill, after all! Insulation is highly reusable, even if the membrane needs to be replaced, and a new, full warranty could also be available. We were able to repurpose over 1 million square feet of insulation on a single re-roof project, but we've also completed projects where the older insulation wasn't viable. It's important to understand that each project is different and the insulation might not always be able to be reused. Other parts of the roof system can also be salvaged and repurposed, such as the metal components — think gutters, copings and edge flashing — so don't just throw those away.
When it comes to reusing materials, your roof consultant and team can be creative. For example, bitumen can be recycled for asphalt production, while single-ply vinyl membranes can be recycled for entirely new membranes. Vinyl membranes can also be repurposed for a variety of other uses, like creating rooftop walkways.
Harvest Rainwater
As our team likes to say, "The principles of roofing haven't changed since it started raining." While rain may make for a slow evening at the restaurant, it can actually be very helpful in the sustainability of your building. Harvesting rainwater from your roof is a great way to greenify your roof. When your roof has sustainably designed assemblies installed, you can irrigate your vegetative roof and even the ground-level landscaping. Stormwater management can even assist your building's plumbing, with the correct retrofitting. One example we've used before is Hydrotech's rubberized asphalt, which is a type of waterproofing assembly that's hot-applied and can be formulated with up to 25% post-consumer recycled content.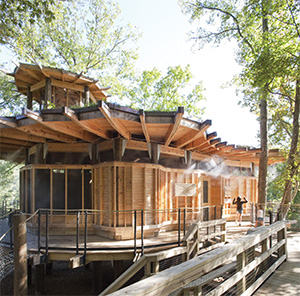 Vegetative Roofs
Vegetative roofs are what are typically known as green roofs in our industry. These are ideal for urban buildings with flat roofs, where they may not be a lot of space for traditional gardens. Vegetative roofs can include everything from a garden to basic plant cover. If you're considering creating a vegetative roof, your reasons might include managing stormwater, as mentioned above, or just to provide an enjoyable rooftop open space for your customers or employees. The vegetative roof we completed at Camp Twin Lakes, the site of a camping program in Georgia for children with serious illnesses, disabilities and other life challenges, is a good example of how a roof can enhance the overall building design. In this case, the green roof played an important role in creating a place where campers can connect with nature. This type of roof may be more expensive than the others described here, but can also reap many benefits. Deciding if a vegetative roof is right for your building is key to their success.
From major cost savings to a smaller carbon footprint, there are many advantages of sustainable practices and green roofs. Before investing in a new roof, consider these green options. Taking a few small steps to learn more, start a conversation with your contractor or rethink your roof's design could make a huge difference.
— Bill Lomel is president of Norcross, Georgia-based Sentry Roof Services, LLC, a full-service commercial and industrial roofing company. For over 35 years, Sentry Roof has been a recognized leader in the roofing industry in the Southeast, working on a variety of projects including roof installation, roof construction and roof repairs. For more information, visit https://sentryroof.com/ or email info@sentryroof.com.