— By Michelle Egan —
What you need to know when adding or updating curbside pickup service.
Prior to the pandemic, it could be argued that many (if not most) restaurants offered takeout while some actually had curbside pickup. The same could be said about some retailers that, in an effort to outpace competitors with stellar customer service, had already introduced online or phone ordering with in-store pickup or in-car delivery. However, curbside pickup today has shifted from being a nice-to-have to a must-have as consumers continue to seek ways to safely distance while still taking advantage of business offerings across the country.
For restaurants and retailers that have already established some sort of remote ordering and pickup service, evolving their strategy to meet full-on curbside pickup expectations may seem somewhat logical…perhaps even simple. For those who never implemented such a service, they may feel overwhelmed as they race to develop such accommodations.
Regardless of where a business is at in this process, owners and managers must remember that cutting corners can cause chaos and frustration for customers. These negative outcomes can, in turn, end up damaging the brand and ultimately the bottom line. Developing a well-organized strategy should yield a smooth and successful process that can help keep customers calm and coming back. What's more, when done right, these types of projects can also strengthen a brand — a win for any organization.
Below are some tips and thoughts for consideration when adding or refining a curbside pickup strategy.
Select the Right Partners
The planning process is especially important. Whether you are tweaking an existing strategy or developing a new one, selecting the right partner for planning and execution can make a big difference. You want a partner with vision as well as implementation capabilities so that they can guide you to a successful end-to-end customer experience.
If you have only one or a few limited sites in the same region, seek an exterior, interior and construction services provider with a strong network in your target location. Ensure their capabilities extend beyond the installation of, for example, just signage. Look for a partner who can work with you on developing the best layout for traffic flow, pickup placement, and integration of complementary tools such as in-store digital resources.
If you have multiple locations, the fundamental expectations of a services partner should be the same. Select a services provider who is experienced in strategic, branded rollouts. This partner should be able to centrally manage all of your locations' reconfigurations — to include initiatives ranging from electrical and construction projects to permitting. They should be able to jump in with local connections and resources again at each location and have a track record of getting such projects done quickly, properly and within budget.
Plan an Exterior Strategy With the Highest ROI
The pioneers of curbside have been through a few evolutions already. Which is great news for rookies as they don't have to reinvent the wheel. A few observations…some strategies that were in place before COVID or considered critical are no longer proving to deliver a high enough ROI and are now determined to be unnecessary.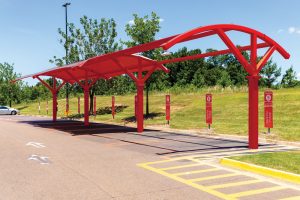 Tents or canopies that cover pickup spaces to protect consumers from weather elements were originally thought to be crucial. We've since learned that customers are okay without them and often don't justify the expense.
Call boxes were occasionally placed in designated parking spots. Customers would pull up and use the box to call for someone to bring out their orders. Today, retailers and restaurants just rely on customers using their cell phones as it is rare that people arrive without one.
Strive for Clear and Efficient Outdoor Signage
Visual cues are invaluable and absolutely critical to help customers move through the pickup process quickly. This will reduce strain on your staff as they hustle to deliver orders while also minimizing customer frustration.
With respect to text-based signage, ensure the size of the text and sign itself are appropriate for customers arriving on foot and/or in cars. Be sure to consider lighting impact (as well as colors used) throughout the day. And, as always, ensure that the message itself is succinct and, if possible, complemented with a simple graphic for faster comprehension.
Traffic flow control is also important. Use large, impactful solutions to, again, enable quick comprehension. For example, designate temporary parking stalls by striping parking lot areas with different colors; an option can be painting blacktop sections white and yellow.
Also, place bollards to direct traffic and create safer lanes. While it's always better to use concrete to ensure stability, water and sand can be used as an interim solution as you tackle this project in two phases.
Increase Drive-Thru Capacity and In-Store Efficiency
Restaurants with drive-thrus typically have a multi-station process: outside menu board, pay window, pickup window. As drive-thru demand rises, consider expanding ordering capacity with a few basic changes.
Increase the footage between each station. This allows for more cars to fit between ordering and pickup…getting more customers into the queue while also buying more time for staff as they fulfill orders.
Also consider adding signs around the parking lot or on buildings/in windows that include QR codes or dedicated URLs that link to online menus. This gives customers still more time to consider their orders via mobile devices prior to getting in line, which can be particularly helpful for walk-up windows.
Develop an Interior Marketing Strategy
Stay top of mind with customers. Always remind them that curbside pickup exists. Develop an interior marketing strategy that leverages in-store wall and/or freestanding signage along with point-of-sale messaging (think receipt text, promotional handouts, bag stuffers, etc.) that highlight the service. Make sure to explain the process in simple steps (three is likely sufficient): order this way, arrive here, collect order. Use the exits as a final reminder that they don't need to come into the store in the future.
Test it. All of it.
Lastly, be sure to walk (or drive) through the total experience yourself. Often, plans may seem efficient on paper but, when actually put to use, can be slightly flawed. It's best to ensure that the experience makes sense to you and your team members when wearing a "customer hat." Ask yourself: are the signs tall/big enough? Is it clear where I have to go…what I have to do? Is the lighting sufficient in the morning, afternoon and evening? Can cars get in and out without issue? Will customer cars back up onto highways or into other unsafe or emergency vehicle zones if we get busy? Is the process a hassle or a benefit? Because in the end, if you don't find your curbside pickup easy and helpful, neither will your customers.
— Michelle Egan is senior vice president of business development and sales operations for Powerhouse.
classic-editor-remember:

classic-editor

abkw-text:
Tagged under