— By Julie Fields —
With cooler temperatures on the horizon, restaurants will be forced to find indoor dining solutions.
Restaurants have been through the wringer since the Coronavirus pandemic reached the United States earlier this year. We have seen new trends that we never would have imagined, such as an increase in takeout from traditional dine-in restaurants. Many restaurants have also seen a huge surge in outdoor dining, as many customers feel safer sitting in the open air. However, as winter approaches and temperatures begin to drop, outdoor dining will no longer be an option. Restaurants must find a solution that makes the customer confident they can safely dine inside.
Some customers are only willing to dine at a restaurant if they offer outdoor dining. In fact, "nearly 60% of people say they feel uncomfortable dining indoors," according to a study from market research firm Mintel. This information comes from a Chicago Tribune article published in late September. And, while some who have enjoyed outdoor dining may be willing to move indoors as the weather gets colder, this means dining rooms will become more crowded, resulting in less social distancing.
Knowing that a restaurant is taking measures to keep up with current sanitation guidelines is very important to customers. In fact, "Nearly 70% of consumers say it's important for restaurants to communicate their safety and sanitation strategy with customers," wrote Restaurant Business online.
And, there is no shortage of technology available to experiment with. The Chicago Tribune reported on several restaurants who are taking innovative approaches with their cleaning strategies. Formento's, an Italian restaurant in Chicago's West Town neighborhood, chose to place portable air purifiers on the top of each table along with their usual menu and wine list. In addition, the restaurant is using ultraviolet wands to sterilize glassware and silverware, floor purifiers that suck in air and use heat to kill viruses, MERV-13 air filters meant to trap particles, and cleaning crews that sanitize with sterilizing foggers.
While all these measures might provide guests with visual representations of the cleaning process, the restaurant owner who decides to implement all these methods is left with a hefty price tag. And, while cleanliness and safety are top of mind, so is price.
Formento's five-layered cleaning approach cost the restaurant owners a total of $13,000 for the 13,000-square-foot building. And, that's just one restaurant. For those with a smaller budget, there's a good chance that this kind of solution is out of the question.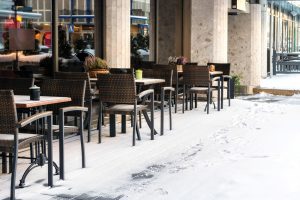 Another restaurant mentioned, Francesca's Restaurant Group, chose to retrofit their HVAC systems with bipolar ionization systems. The company spent a total of $100,000 to implement the technology into each of their 26 restaurants. While this sounds like a large sum, the total amount split between all 26 restaurants averages to right under $4,000 per restaurant. Bipolar ionization has shown itself to be a promising and affordable solution to combating airborne viruses that spread in confined spaces.
When considering bipolar ionization, it's imperative to find a UL-2998 and 867 certified needlepoint bipolar ionizer. These certifications ensure no harmful byproducts, including ozone, are being released into the air. Needlepoint bipolar ionization works by offering an all-in-one cleaning method proven to actively kill viruses in the occupied space rather than just in the HVAC system. Its specialized technology converts oxygen particles into billions of charged ions, which are blown out into the entire building. Since they desire to become stable (neutral), the ions search out a particle of the opposite charge.
The ions attach to harmful particles such as viruses, bacteria, mold, gaseous chemicals and VOCs. They neutralize the particles, rendering them harmless. It has been found 99% effective against airborne COVID-19 in independent testing. And, because the ions will attach to any exposed particle, it is also effective at destroying surface-living pathogens. In an independent test done in conjunction with the Spanish government, a needlepoint bipolar ionization system was found to reduce 80% surface-living COVID-19 in 10 minutes. And, while protecting against COVID-19 is a top priority, the technology is also effective at preventing the spread of seasonal viruses, limiting inhalation of cooking fumes, and preventing mold growth.
Many of these units can increase energy savings — sometimes by up to 30%. While many cleaning technologies require constant upkeep, needlepoint bipolar ionizers installed in HVAC systems usually require very low maintenance. For restaurants expecting more indoor guests in the coming months, needlepoint bipolar ionization is definitely a technology worth looking into.
References:
Elejalde-Ruiz, Alexia. "What Will It Take to Make Diners Feel Safe Indoors? Nearly 60% Feel Uneasy Eating inside, so Restaurants Try Sterilizing UV Wands, Tabletop Air Purifiers as Winter Looms." Chicagotribune.com, 25 Sept. 2020, www.chicagotribune.com/coronavirus/ct-restaurants-air-filtration-coronavirus-20200922-niupyrkw7fhlzh6uul5hzid2am-story.html.
Guszkowski, Joe. "With Winter Approaching, Some Restaurants Turn to UV Light to Make Indoors Safer." Restaurant Business, Restaurant Business, 2 Sept. 2020, www.restaurantbusinessonline.com/technology/winter-approaching-some-restaurants-turn-uv-light-make-indoors-safer.
— Julie Fields serves as the marketing coordinator for Core Green Technologies, an Atlanta-based, women-owned company that brings together sustainable technology and renewable energy options to the commercial market. Email: hello@core.green.
classic-editor-remember:

classic-editor

abkw-text: