The physical retail environment is changing to accommodate an omni-channel approach to retail. That's having an impact on how space is used, and changing the purpose of retail space as we know it.
By Lynn Peisner
As retail evolves, moving merchandise through physical store locations is becoming less important to some brands and retailers. For many, a physical presence has become more of a showcase than a place for heavy volume commerce. Brick-and-mortar stores are transitioning from showrooms where customers can touch and feel products into theaters that enact a brand's story — and the consumer's role in that story — in dramatic style.
This turn away from the transaction and toward the narrative is occurring in lockstep with an increasing migration to online shopping. Retailers — and consumers — are still deciding how brick-and-mortar stores will continue to delicately counter balance with online sales. For now, retailers are inviting their customers over for a drink, to relax a while, check emails, tackle a climbing wall, go for a run or just hang out. You don't have to buy anything.
Product Placement
"Many retailers are creating larger flagship environments, or 'experience centers' they like to call them," says Aaron Birney, retail practice area leader and senior associate with global architecture and design firm Gensler, a global architecture firm with more than 2,700 clients.
"These stores are investments in brand capital," he adds. "I think retailers have come to the realization that it's not just about trying to create a marketing pitch for their products. It's much more about being meaningful and relevant to the people they're trying to attract. Retailers are realizing that if they back off a little and let people have fun and let their guard down, they will have a much more memorable experience within the space."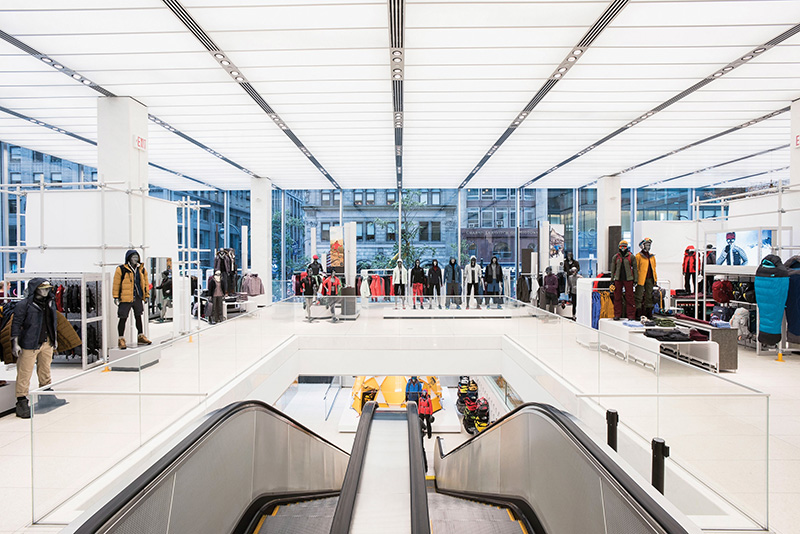 The North Face is a prime example of a retailer that is tweaking its brand identity with experiences. The company opened its first flagship store in New York City in October 2016. The 20,000-square-foot store offers an immersive experience that brings the outdoors in. Fitting rooms are modeled after tents, and a large climbing wall enables customers to test products.
"Stores need to create experiences that engage the shopper right away and align with their values," says Erik Searles, vice president of direct-to-consumer retail for The North Face.
"Stores also need to create a sense of community," Searles continues. "That's why the new Fifth Avenue flagship and other The North Face stores that will receive transformative updates in 2017 will have places like coffee shops and other lounge areas within that invite customers to gather, relax and share experiences from their adventures."
In downtown Memphis, Tennessee, Bass Pro Shops is located inside a massive, transformed, 32-story sports arena shaped like a pyramid. The 535,000-square-foot store opened in April 2015 — and retailers with an eye toward 'experience' have been taking notice ever since. Bass Pro's immersive retail setup includes a wilderness hotel, nearly 600,000 gallons of water features, a cypress swamp with 100-foot-tall trees, the interactive Ducks Unlimited Waterfowling Heritage Center, and a glass-floored cantilevering observation deck at the top of the 32-story steel pyramid.
While Bass Pro Shops, from the beginning, built its reputation on experiential retail, Bloomingdale's is an example of a retail institution steeped in tradition — but favoring a more experiential approach today. Its new stores merge experiential, social experiences in the brick-and-mortar environment with the convenience of a digital environment. How the two work together, interact and move the industry forward is how brick-and-mortar legends like Bloomingdale's truly evolve and stay ahead of the curve.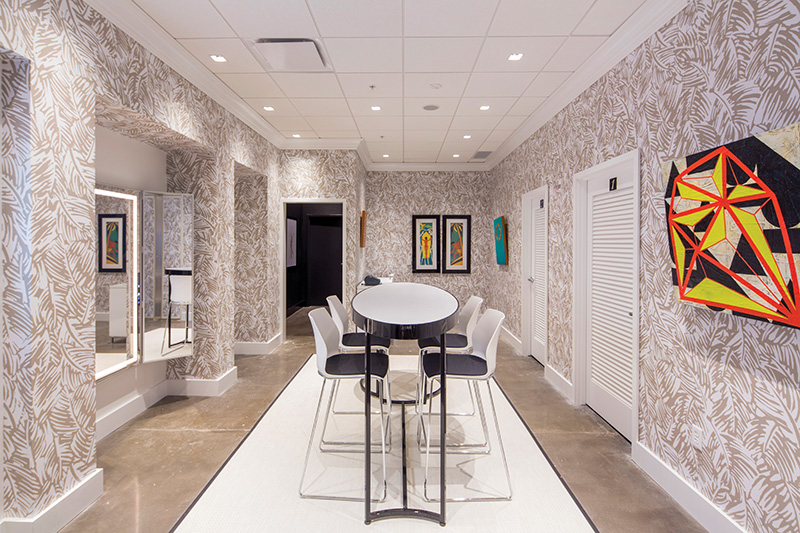 In Honolulu, the Ala Moana Bloomingdale's, which opened in late 2015, showcases "smart" technology in fitting rooms and on the sales floor. Mingle rooms inside the fitting room areas are plugged in with cellphone charging stations and flat screen smart TVs that promote store events and allow customers to access the Bloomingdale's website. Tablet pads in each fitting room stall can be used to search for merchandise or notify a sales associate without having to leave the fitting room. A "smart" mirror in each fitting room stall adjusts to different environments and varying light levels. On the sales floor, all associates are equipped with hands-free phones and portable, handheld point-of-sale devices.
"We're doing everything we can to make our stores interesting so that people do want to come into our stores and have a social experience," says Jack Hruska, the executive vice president of creative services for Bloomingdale's. "The world's changed so much in the last couple of years, and it's rapidly changing the way we think about retail. We're always in that conversation."
Micro-Macro Experiences
Owners and managers of shopping centers, malls and mixed-use destinations are beginning to recognize that their role in this new landscape is changing as well. "What's interesting about all this is that it's happening on the individual retailer level within their store experience while the very same thing is happening on the bigger scale with tenant mixes in retail centers," says Marty Borko, principal with Gensler.
"Having the right mix of tenants who understand your local demographic is critical, and then the mixed-use or lifestyle center owner or mall owner is now trying create experiences and opportunities in between the stores that aren't about shopping at all."
At Brookfield Place in Lower Manhattan, Brookfield sets the stage then invites retailers to play on it in creative ways. "For us, the whole idea of place-making is really about creating an experience and a venue for the retail, food and arts and events to thrive," says Mark Kostic, vice president, retail leasing, U.S. Office Division of Brookfield.
To curate the experience and tailor it to the profile of its visitor, Kostic says Brookfield likes retailers to physically come out of their stores to activate common spaces and drive energy in the center. Cultural events are also a cornerstone of Brookfield, which sponsors the largest privately funded public arts and events program in North America. Brookfield Place hosts the Lowdown Hudson Music Fest each year as well as a popular holiday light art installation called Luminaries.
"Having the retailers do something unique adds to the experience," Kostic says. "It gives people more of a reason to not only come to Brookfield Place but to come to the store here versus somewhere else."
Kostic says the Brookfield Place Starbucks is a standout in the area with a 4,000-square-foot Reserve Store. This non-traditional store concept integrates the educational aspects of the company's Roastery and features a coffee bar, where customers can talk to employees to learn about how the coffee is made. In terms of product, there is a focus on the company's small-batch Reserve coffee.
And the Allen Edmonds store, which is opening in spring 2017, brought a new design specifically for the Brookfield location, where customers will be able to customize their own shoes by choosing colors and materials. Within 30 days, the handmade pair of shoes is shipped directly to the customer.
Cocktails, fitness and an overall feeling that customers are receiving a curated, boutique experience are the lynchpins of interactive retail. Brookfield's retailers routinely host Sip & Shop events where snacks and champagne pull shoppers into stores.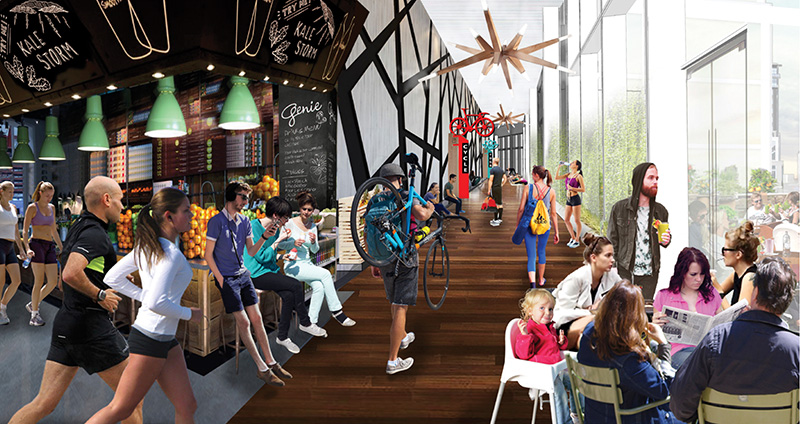 At Assembly Row in Somerville, Massachusetts, near Boston, Federal Realty is investing in a new concept called FitRow. Opening in spring 2017, FitRow will add 15,000 square feet to the mixed-use destination, which also includes 30 nationally branded outlets and a LEGOLAND Discovery Center.
FitRow will be a cluster of five boutique fitness studios operating independently, including Boxing Club Boston and Orangetheory Fitness. Additionally, Boston-based Squeeze Juice Co. will be opening a 1,000-square-foot juice bar using ingredients from a garden operated by Somerville-based Green City Growers.
The garden will be on the building's second-floor terrace adjacent to FitRow with an accompanying 2,000-square-foot public terrace with café seating.
"How do we make our property a place where people want to eat, relax and shop?" says Matt Ehrie, vice president and general manager of Assembly Row. "It's a constant evolution as to how we're making that happen. Office workers, residents and community members have been asking for boutique fitness and wellness studios, not a one-size-fits-all gym facility. We saw this as an opportunity to create a place where people could experiment and tailor their own experiences. I can't emphasize enough that the key to the concept is variety."
Knowing Your Audience
Researching intimate demographic details is becoming increasingly important from the owner perspective, as well as the retailer perspective. It's an essential part of creating experiences that hit the bull's eye in selling a brand and drawing traffic. Retailers are gleaning important data about their customers through discount incentives in exchange for survey participation or social media connections.
"You could start to create heat mapping of where the users of your brand are specifically located and how far, based on their lifestyle, that they're willing to travel to get to a destination," Birney says. "I think that's the science behind how retailers are thinking more strategically and becoming much more savvy about the way they invest in real estate."
Symbiotic Relationships
E-commerce and brick-and-mortar stores are also evolving in their supporting roles of a brand's identity. To provide customers a full spectrum of channels through which to engage, retailers like The North Face and Bloomingdale's integrate their in-store experience with a website and an app.
On its website, The North Face has partnered with Fluid and IBM for an artificial intelligence experience in which the customer interacts via a question-and-answer dialog to find a product that's a perfect match.
At Brookfield Place, the J Crew store receives merchandise 30 days in advance of other stores to test what is and isn't working as an incentive to visit the store for something special. 
Brookfield Place is also offering mobile ordering for food. To cater to their audience and bring in more foot traffic, the center owner introduced an app called Ritual that allows customers to order and pay for meals ahead of time to eliminate waiting in the food hall, Hudson Eats. 
"We're looking at ways to pilot it through the retail — and even through the office community and the local residents," Kostic says. "I think that's going to be a growing part of our platform."
The company recognizes the benefits of both technology and physical spaces for retail sales. Kostic says, "It's one thing to order something online and have it delivered, but at a certain point, I think people are always going to want to go in the store to see and feel items — especially larger or luxury purchases."
Even one of the biggest online retailers is getting in on the act. Amazon is exploring physical spaces with prototypes, such as a small-format grocery concept called Amazon Go.
As traditional retailers react to online competition with increasingly experiential stores, e-commerce sites are starting to react by opening brick-and-mortar stores themselves. Perhaps today's retail is coming full circle with the best of both digital and physical worlds.
— Lynn Peisner is the staff writer for France Media, Inc. A version of this story originally appeared in Shopping Center Business. Additional reporting by Katie Lee, editor of Retail & Restaurant Facility Business magazine. Email the editor at katie@francemediainc.com.