— By Katie Lee —
Rethinking its operations since the pandemic, On The Border rebrands with bold changes for its food and the guest experience.
When the COVID-19 pandemic upended the world's economy 3 years ago, many industries were forced to turn on a dime, to rethink their entire business models, to reengineer some shred of stability in the shakiest of markets. As On The Border can attest first-hand, the restaurant industry was among the trickiest terrain to navigate. But the Texas-based brand was agile enough to turn a crisis into opportunity — and, in summer 2020 with the hiring of CEO Tim Ward, it began to 'rethink' its operations from top to bottom.
As Suzie Tsai, vice president of marketing, recalls: "On The Border first started to identify the struggles we were having around the time Tim [Ward] joined the team in June of 2020," she says. "It was actually a few months before I joined the team. We were still in the pandemic, so there wasn't a lot we could do at the time besides strategize our initiative. Once things started opening up again, we were finally able to start looking to implement the changes we had planned for On The Border's rebranding initiative, or 'rethink,' as we like to call it."
Going all in would not be without risk. The company was significantly investing in — and betting on — two things: its food and its people. On The Border wanted to raise its food quality, but the investment also coincided with rising food costs. It also wanted to hire the best people for the job, but good help was hard to find.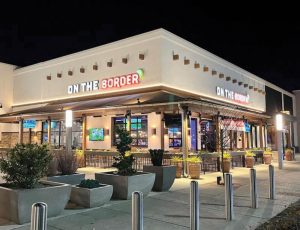 "We were starting to implement our changes at a time where the cost of ingredients was high, and labor was hard to find and retain following layoffs and the Great Resignation," Tsai explains. "Both of those issues were the biggest challenges for the entire restaurant industry at the time. We were also nervous about the fact that we didn't know if people were going to go out to eat like they used to pre-COVID, but luckily most of our prototypes have patios which gave us a slight advantage. Making these changes and big investments was nerve wracking, but we had to do it if we wanted to see the results we desired."
Overall, the investments have paid off for On The Border's 133 restaurants worldwide. Customers continue to rave about the food, specifically about the flavors and consistency of quality.
"Like with many brands, it was a struggle because it was a huge overnight change," Tsai continues. "We had to convert to a completely different business model. One major pivot was our To Go ordering. Specifically, we like to say our margaritas saved the day. Sales and traffic momentum was driven by the brand's ability to pivot and bring forth that exciting new innovation to our To Go food menu."

Betting big on its to-go margaritas was a bold move — and one that paid off.
"We knew that if we were going to 'come back,' so to speak, we were going all in," Tsai says. "Some brands like to take small steps with their changes, but we brought it all, and have gotten great feedback from lifelong fans, and those who just discovered On The Border."
On The Border was founded in 1982 in Dallas. Both geographically and demographically, Dallas was a prime spot for a Tex Mex brand to start. Today, the culinary team works hard to integrate Texas barbeque-style food preparation on the mesquite grill with the abundant flavors and seasonings found in Mexican cuisine.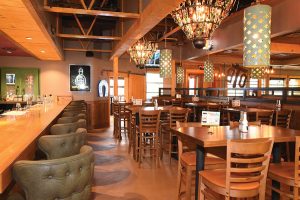 "We really pride ourselves on being bold with everything we do," Tsai says. "From our food to the aesthetic of the restaurant. We make a point to be a people-oriented and hospitality-driven brand, and to give our guests a reason to come back to us. That mindset has made a difference to our guests, and it is a huge part of why we've been so successful following this rethink initiative. It's not just the food, it's the food mixed with the people who are helping the guests and how we treat them that makes them want to come back."
After years of pandemic uncertainty, guests are coming back. And as other brands emerge from the pandemic fog, too, they might be tempted to make a fresh start. Reenergize via rebranding. Change can be good, but it should also be strategic.
"The best advice that I can give to other operators is to really take a step back, assess the situation, review the data, listen to your customers and make sure you have your priorities straight," Tsai says. "You need to decide what change is going to have the biggest impact, especially from the guest perspective. For On The Border, the change we made that had the biggest impact on guest experience was the food. We were cautious about the change for sure, and there was a lot of thought and dedication that went into the change. Not only did we have to make sure the base recipes were all perfect, but we had to be cautious with how we priced everything. We made the call to take all the price and supply chain issues into our own hands, so that we wouldn't price ourselves out completely. Making sure that your priorities are all in check even before starting to develop the materials for the change is an integral part of a rebrand that not everyone is going to think of, but truly makes all the difference. You want to make a big impact, but you can't go into it without a plan of action."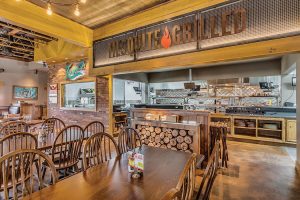 In On The Border's case, the entire initiative was handled in-house. The internal team effort was spearheaded by CEO Tim Ward, head chefs Daniel Camp and Walter Rivas, and the marketing team (Tsai and Edithann Ramey, former chief marketing officer).
Aside from its new menu, there were several other changes that On The Border made during its 'rethink' initiative. It launched its initial rewards program, called the Queso Club, in May 2021. What started as a simple rewards program test pilot ended up yielding astounding results — so much so that On The Border had to reassess and restructure the program to make more operational sense for the company. Alongside the rewards program, On The Border also launched an app for guests to download onto their phones for online orders, as well as a new website that was more integrated for online ordering. It's hard to overstate the impact that COVID had on online ordering industry-wide, and On The Border needed to ensure its system was as convenient and helpful for guests as possible. The new website also helped further integrate On The Border with third-party delivery services.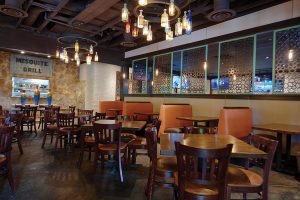 On the corporate side, Tsai says the company implemented a new system to help improve operations for all managers at all locations, allowing for easier access, distribution of news and collaboration amongst all On The Border locations.
During the pandemic, On The Border entered the ghost kitchen side of the business, working with virtual kitchens to maximize labor. "It was an integral part of our business that allowed us to retain our back-of-house labor," Tsai says. "We were able to utilize ghost/virtual kitchens to keep our BOH labor in place while still driving sales, and it's remained a part of our operations even after we came out of the pandemic."
Tsai continues: "Another aspect that's definitely here for good is the popularity of To Go and delivery options. It really boomed during COVID, because it had to. We thought it would see some sort of decline once things started to return to normal, but there really hasn't been a change. People like the convenience and ease, which is a testament to this age we're living in where people want things at the click of a button."
Driving a large chunk of this off-premise business is to-go alcohol, which was huge for On The Border during COVID. (Again, margaritas to the rescue!)
Also here to stay, thanks to COVID, is a newfound emphasis on live-work balance, with many companies still allowing team members to work from home some or all of the time.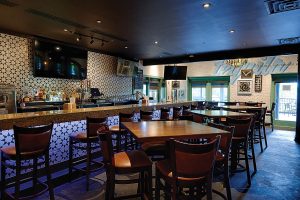 "For On The Border, remote working has permanently changed for us," Tsai says. "From a corporate standpoint, we were actually able to optimize our office space and create a more balanced workplace. We could also save money by not needing a huge office for everyone to be in. For example, our IT team was often out in the field, so they are absolutely able to work from home every day. It also makes sense for people who would be a great fit for the team, but can't move to be at headquarters, we're still able to have them on the team and be just as successful as they would be in office. Work from home options are here to stay, because during the pandemic, so many employees were able to show they can work from home and still be productive and successful."
What comes with a better live-work balance? Happier team members.
"The point of our brand is to have fun every day, and we make sure we do that whether we're corporate employees working in the office, or employees at the restaurant," Tsai says. "No matter what we're working on, we try to make sure that we're doing it with the 'fiesta mentality' that we want to be known for, and we try to bring that energy into everything that we do. We pride ourselves on being a fun restaurant and creating those fun moments for our guests. We want to bring people together over great food and give them a time where they feel like they don't have anything to worry about, like they're on vacation. I enjoy that aspect of On The Border so much, and we're always looking to create that energy."
In the future, On The Border plans to roll out a new and improved rewards program as well as revive its catering business back to pre-COVID levels. Another goal is to drive back On The Border's lunch and happy hour business, which hasn't quite rebounded to pre-pandemic levels, as well as continue to grow through franchising.
"We relaunched our franchising initiative not too long ago, and we're really looking forward to teaming up with entrepreneurs across the world to bring On The Border to new markets," Tsai says. "We've already got some exciting new restaurant openings planned for this year, and I personally cannot wait to see where we continue to go from here."
Sidebar:
ON THE BORDER: ON MAINTENANCE
R&R: Do you have an in-house maintenance department or do you rely on vendors? If franchised, do franchisees handle R&M individually?
Suzie Tsai: "We partner with a brand called EcoSure, who helps with our cleaning and sanitization program. We don't hire any physical janitorial companies to do the cleaning in our restaurants; it's all an in-house effort. EcoSure has been a great partner for us, especially when COVID hit and we had to be extra conscious of our hygiene habits."
R&R: Do you use local or national vendors?
Tsai: "Just about all of our vendors are national, like our distribution partner, for example. The reason for this is that it allows for us to have consistency with all of our locations, because we have a reliable and consistent resource for our restaurants. It's super beneficial to the brand from a rollout standpoint when it comes to having LTOs, menu changes, operational changes. It just allows for easier accountability and cohesiveness."
R&R: How has everyday restaurant maintenance evolved since the pandemic struck?
Tsai: "There are certain practices that we don't continue to do. One example is that we don't just have salt, pepper and condiments sitting at the table, and there's still a lot more space between the tables. There's a lot more consciousness about what the standards should be. We've continued to do more individual wrapping of silverware and plasticware to prevent exposure and make sure everyone gets their own items. These habits are something that we've since established in the permanent operations of our restaurants because that has become the standard industry-wide for the most part. People also really liked that we brought back our physical menus, as opposed to only using the digital QR-code menus that many places started to do, and still do even after things started going back to normal."
— This article originally appeared as the cover story of the April 2023 issue of Retail & Restaurant Facility Business magazine. For more information or to have your restaurant or retail company profiled, please email the editor, Katie Lee, at [email protected].