Phoenix — Vestar, one of the leading privately held shopping center owners and managers in the western United States, has joined forces with Arizona State University's (ASU) Southwest Integrated Field Laboratory (SW-IFL) to launch the first-ever 'Cool Pavement Project' at a commercial retail center.
The partnership comes on the heels of this summer's record-breaking heat and aims to help mitigate elevated temperatures in communities dense with impervious and solar-absorbing materials — known as the 'Urban Heat Island Effect.' As stewards of the communities it serves in, Vestar is invested in seeking long term solutions that will reduce energy use, while enhancing the customer shopping experience.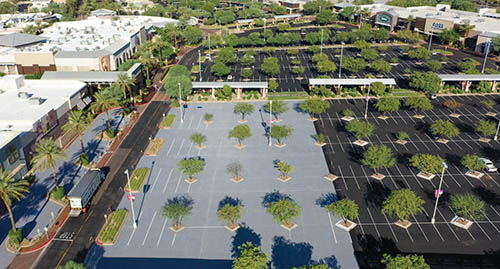 The pilot program will launch with a testing site at a Vestar-signature property, Desert Ridge Marketplace in Phoenix, beginning on Sept. 17, 2023. CoolSeal by GuardTop® is a water-based asphalt coating that is expected to lower street and parking lot temperatures by reflecting heat rather than absorbing it. Paved surfaces — including roads, sidewalks and parking lots — make up approximately 40% of the Phoenix land area, warming ambient urban air on the hottest days. Cool Pavement will be applied to a high-traffic zone in the Northside parking lot, covering a total of 63,000 square feet. Strategically placed sensors have been installed throughout the 1.2 million-square-foot center — both above and underground — that will collect data over the course of 1 year. Figures will be measured at differing times of the day and under various weather conditions, then taken back to the ASU laboratories for further analysis and reporting.
The Cool Pavement Project adds to Vestar's industry leading GreenStar Sustainability program, created in-house in 2007. Over the years, Vestar has prioritized green initiatives across its portfolio, working with architects and environmental consultants to implement best practices for new and developing properties including energy-efficient building materials, solar power, water harvesting, white "cool" roofs, artificial turf, LED lighting, onsite recycling and composting, drip system landscaping and EV charging stations.
"Vestar is committed to enhancing our sustainability program and wants to better understand how the CoolSeal pavement could be utilized on a larger scale at our shopping centers. We jumped at the opportunity to partner with ASU to learn more. CoolSeal has the potential of lowering surface and air temperatures — reducing energy and water consumption over the long term — while also improving the customer shopping experience. This project is really a win-win for us," says Miles Sanchez, chief operating officer at Vestar.
Applying Cool Pavement to the commercial space will allow the ASU team to gain a larger and more concentrated testing site than has ever been possible before.
"Testing a cool paving technology on such a large continuous paved area offers us a unique opportunity to characterize the effects that cool paving has, not only on surface and sub-surface temperatures, but also on near-surface air temperatures above and downwind of the test area," says David Sailor, director of the SW-IFL and lead researcher on the Cool Pavement Project. "This is just one of many cooling technologies and strategies that we are exploring as part of the SW-IFL — work that cannot be done without strong community and commercial partners such as Vestar."
As a national leader in real estate operations, development and management, Vestar is committed to reducing the environmental footprint to support healthy, vibrant communities. If the 'Cool Pavement Project' deems successful, Vestar will assess incorporating CoolSeal by GuardTop® at each of its heat-vulnerable properties.
Founded in 1989, Vestar currently owns and operates over 30 million square feet of space in the western United States with an additional 1.2 million square feet in development. For more information, visit www.vestar.com.
SOURCE: Vestar