Just in time for its 50th anniversary, Schlotzsky's rolls out two new prototypes with plans to build on lessons learned during COVID-19.
— By Katie Lee —
At Schlotzsky's, the drive-thru has always been a driving force of its business. Eighty-five percent of its 339 locations already had a drive-thru — often with double lanes — and this positioned the sandwich chain well when COVID-19 changed the world in early 2020.
Schlotzsky's already understood customers' evolving needs — and the pandemic accelerated that evolution. Several years prior to the pandemic, Schlotzsky's had begun heavily investing in real estate innovation to offer franchisees flexible design options and, in December 2020, unveiled two brand-new prototypes that feature the drive-thru front and center while enhancing speed of service for delivery, to-go and catering. In the future, Schlotzsky's anticipates 99% of its restaurants adapting to a drive-thru.
"Prior to COVID, we were working to leverage our channels at the time, which drive-thrus have always been an important part of," says Tory Bartlett, chief brand officer for Schlotzsky's. "And it's been growing each year, as well as additional growth in our delivery channels. Dine-in has continued to decline over the years — and we saw this prior to COVID."
Also prior to COVID, the company had begun trimming the fat from its SKU count, bringing fewer products in-store and streamlining its menu, focusing on a few core items only and simplifying the operational complexity of the business for franchisees. Its two-line ordering system came in handy when the pandemic struck because operators could choose how they wanted to use those lines depending on demand throughout the day.
"Thankfully, someone a long time ago designed our restaurants with two-sided lines," Bartlett says. "Then the franchisees could have the opportunity to toggle how they wanted to handle delivery of third-party and first-party."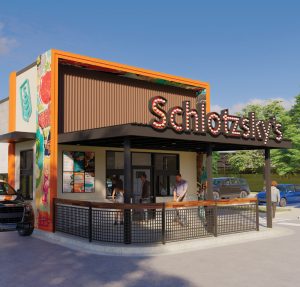 With the pandemic, all of these 'alternative' channels took on even more importance. Luckily, Schlotzsky's already had a diversified foundation in place — one that prioritized speed, accuracy and convenience. In 2020, 35% of Schlotzsky's sales were driven by off-premise orders and were a major part of the brand's rapid recovery.
Still, despite its success with drive-thru, delivery and takeout, the restaurants themselves were too big. Ranging from 2,300 to 3,300 square feet — and with dine-in business on the decline — Schlotzsky's took a very hard look at the size of its stores. The company got to work quickly: what would have been a 2-year design plan was fast-tracked to 9 months, thanks to the pandemic, with Schlotzsky's in-house design team unveiling its two new store models late last year, with prototype renderings by Oculus. The first corporate location with the new design will open in Oklahoma this summer, with two more locations in Arkansas and Kansas being built by longtime franchisee J.J. Ramsey later this year.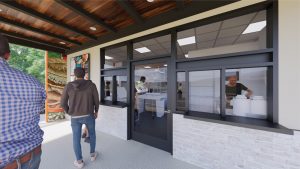 The new design options — "Design 1800" and "Design 1000" — both lean heavily on off-premise and reduce seating. In fact, Design 1000 has no seating at all — featuring walk-up windows for ordering and double drive-thru lanes for picking up and third-party delivery and catering. The prototype's slightly larger 1,800-square-foot counterpart, Design 1800, provides enhanced drive-thru capabilities in addition to 35 seats.
"When the world changed, it almost felt like we had a crystal ball because all of the things that we were focused on prior to COVID really helped us not just weather COVID but actually thrive through COVID," Bartlett says. "The franchisees were already on board with going to a more efficient model, so after the franchisees got behind us and supported us, it just really accelerated."
After all, franchisees have big incentive — monetarily — for their smaller stores. "You capture a lot of efficiencies from the buildout cost, rent, cleaning, maintenance, staffing, all that," Bartlett explains.
In the 1,000-square-foot model, the drive-thru is two-sided. Traditionally, this allows both the driver side and passenger side to be handed food, but payment is more difficult when handled on the passenger side. So Schlotzsky's innovated a workaround.
"The way we've designed this is the franchisee has the ability to use it as a two-sided drive-thru during peak hours if they like, but it's really designed to be for curbside pickup," Bartlett says. "Our third-party drivers can go through and pick up and payment's already done through the app or website or a third-party aggregator. We've been pretty excited about that."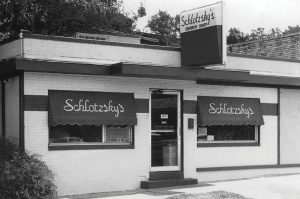 Schlotzsky's marks its 50th anniversary in 2021. Founded in 1971 in Austin, Texas, as a small sandwich shop with 19 seats (pictured at right), the original Schlotzsky's served The Original Sandwich. "We had one sandwich," Bartlett says. "It was the one with the 13 original ingredients and is the same Original Sandwich as today. If you come in today, that's the same sandwich we were serving back in 1971."
In 2006, an affiliate of Atlanta-based Roark Capital Group, Focus Brands, purchased the brand. (Roark Capital Group currently owns Schlotzsky's, Carvel, Cinnabon, Moe's Southwest Grill, McAlister's Deli, Auntie Anne's and Jamba.) After going through several iterations of the brand — originally it was Schlotzsky's, then Schlotzsky's Deli, then Schlotzsky's Bakery & Café, and now back to just Schlotzsky's again — Schlotzsky's decided to pare down its menu to sandwiches and pizza — a segment that has grown from about 6% of the business to 12% during COVID-19.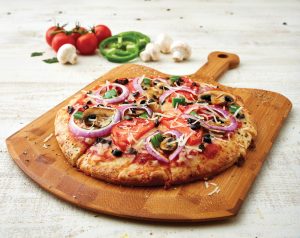 "Our pizzas are made from the same flour and dough [with which] we make our bread," Bartlett says. "What's unique about Schlotzsky's is we bake our bread from flour in every single one of our restaurants, every day. I don't know if other brands are doing that today. Our pizzas are made from the same dough."
During COVID, guests leaned into the pizza category even more because Schlotzsky's pizza travels well and is a great value. "We are a heavy lunch-focused business, but our pizza business is growing and helping grow the late afternoon and dinner part, which is exciting for our franchisees and customers."
Another positive to come out of COVID, Bartlett says, is seeing how efficient the company has become. "By streamlining the menu and focusing on the number of employees we had in the building at a certain time, and still be able to do the same volume and do it well and do it even better, in most cases," Bartlett says. "I think efficiency has been off the charts. I know our franchisees are pretty happy about the progress we've made with the labor and lowering the overall cost of doing business. That's been a great feather in the cap of the brand."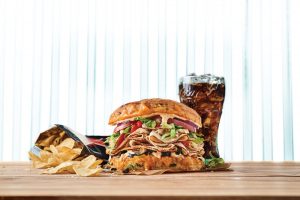 As for the buildings themselves, less really became more. Even the drive-thrus became more efficient and worked double-duty, depending on demand. "We were able to look at the current infrastructure we had and just tweak a few things, and it really worked out," Bartlett says.
Schlotzsky's plans to open approximately 15 locations this year, all with smaller footprints. Thanks to COVID and a smaller dine-in segment, even more care will be given to building exteriors and the overall landscaping, lighting and curb appeal. Schlotzsky's understands that many guests are no longer walking into the buildings and seeing the restrooms, for example, but instead are spending more time in the parking lot.
The company is on track to eclipse 400 locations before 2024. Bartlett predicts 2022 will be a great year for the brand, with 30-40 new locations, and then add 50 locations in 2023.
The goal is to keep growing, yes, but not lose sight of how they got here.
"We will have an eye for menu innovation, but also be very cognizant of what brought us to the table: our Original Sandwich, our pizza category," Bartlett says. "We're not trying to do everything for everybody: just focus on a few things and be absolutely the best at that in that category. It makes you feel good about the path forward."
— Originally this article was published as the cover story of the February 2021 issue of Retail & Restaurant Facility Business magazine. Email the editor, Katie Lee, at [email protected].
classic-editor-remember:

classic-editor

abkw-text: