— Interview with Eduardo Luz —
Panera puts on a show with several new design formats catering to the needs of an increasingly digital and off-premise guest.
If variety is the spice of life, the many evolving iterations of Panera these days is keeping its real estate and construction game pretty hot. Currently boasting more than 2,100 bakery-cafes (in 48 states and Ontario, Canada), Panera operates under the Panera Bread® or Saint Louis Bread Co.® names; roughly half of these cafes are company-owned. Never a brand to sit still, over the past few years Panera has been vigorously testing a variety of new restaurant designs, from a dual drive-thru model with increased pickup and contactless options to a Next Gen design that modernizes and revitalizes the dine-in experience. It even has a small, urban footprint option. Last year, the brand opened its first digital-only bakery cafe and continues to test multiple ghost kitchens. We recently discussed these changes with Panera's chief brand & concept officer, Eduardo Luz.
R&R: How much of a role did the pandemic play in motivating these changes?       
Eduardo Luz: Prior to the pandemic,  we were already leading the industry with our digital capabilities and omnichannel infrastructure. When COVID-19 underscored the importance of off-premise channels in the food business, we were well-placed to build on our established, strong digital e-commerce presence. Our existing infrastructure enabled us to quickly pivot and adjust to a reality where dine-in was, for a time, not an option.
In response to customers' needs for fast and frictionless food delivery during the pandemic, we continued to find new ways to innovate. In fact, 85% of our business came through off-premise channels during the pandemic — highlighting a guest need and pointing to significant growth potential for new formats. Some of these off-premise behaviors, such as delivery, are persisting and only continuing to grow.
As a result, Panera has redefined its dining experience to serve today's guest in an increasingly off-premise world. This includes enhanced digital capabilities, personalized options, more drive-thru access and even stores designed for on-the-go guests, like our Panera To Go store format. That said, we still believe providing a warm dine-in experience has value. Panera's Next Gen restaurant design features a modern and revitalized dine-in experience around its signature craft bakery experience within a vibrant, warm and welcoming environment.
R&R: Tell me about your design partnerships.
Luz: As a brand, we were seeking to evoke the visceral and joyful experience of eating a delicious meal. Part of this transformation included working with JKR on a refresh of our brand world, which brings a vibrant face to the brand, leaning into a refreshed color palette and several design cues including an expressive "burst" element. We also partnered with ChangeUp when we opened our first Next-Gen café, where we brought in new brand elements, added a renewed focus on bakery theater and gave the café look and feel an overall refresh.
R&R: The first two "Panera To Go" test locations opened in late 2022 in Chicago and New York. Are more on the way? Tell us about the concept.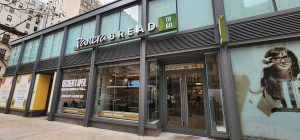 Luz: Panera plans to open two additional Panera To Go cafes in California and Washington, D.C., in 2023. Different from Panera's new urban format, Panera To Go solely offers Rapid PickUp and Delivery with shelves where both guests and delivery drivers can easily pick up orders.
Designed for densely populated areas that cannot accommodate a dine-in bakery-cafe, the Panera To Go format allows us to meet the demand for easy off-premise options — with fewer front-of-house duties and simplified operations for staff.
R&R: Panera has also been testing ghost kitchens, with five currently operational and more planned to open soon. How is Panera To Go different from a ghost kitchen?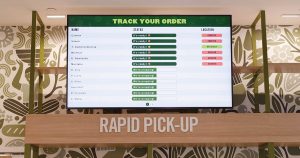 Luz: The Panera To Go concept differs from ghost kitchens in that the new format offers a branded front-of-house experience where both guests can easily order via kiosk or pick up orders from Rapid PickUp®. Delivery partners are also able to easily pick up their assigned orders.
R&R: In 2020, Panera launched Panera Curbside, a geofence-enabled service that allows guests to easily get their meals delivered directly to their car. How has this and other new technology helped Panera pivot and adapt during the pandemic?
Luz: We stood up Panera Curbside incredibly quickly in 2020 to address shifting customer needs — our goal was to provide additional safety precautions and optionality for guests looking for convenient and contactless ways to get their food, especially at Panera cafes without drive-thru.
Our well-established omnichannel and digital infrastructure has powered Panera's ability to find new ways to innovate how our guests could access their Panera favorites — including Curbside, Contactless Dine-In and more. We have seen continued growth among off-premise behaviors and have consistently adapted to meet those guest needs.
R&R: Staying on the topic of new technology, select Panera bakery-cafes near Rochester, New York, have teamed up with OpenCity to use their proprietary voice AI ordering technology, called "Tori," for drive-thru orders. How many locations are currently testing Tori?
Luz: With OpenCity, we have begun testing new AI technology with the goal of maximizing efficiency and increasing speed of drive-thru orders. OpenCity's proprietary "Tori" takes orders as normal at the drive-thru speaker, with Panera associates on standby to assist if needed to troubleshoot any issues.
Guests can pull up to the drive-thru, place their order as usual with assistance from Tori and pay the associate at the drive-thru window.
Tori streamlines the workday for our associates so they can focus on other tasks. The addition of this technology offers myriad benefits, helping to cut down wait times, improve order accuracy and allow associates to focus on freshly preparing guest orders.
Currently, we are testing out Tori in Webster, New York, and Greece, New York, and we are eager to see the results of this test and determine if this technology will be applied in additional bakery-cafes. Guests and associates have responded very positively so far.
R&R: You recently opened Panera's first 'urban store format' in New York — the newest of several new formats targeted at more densely populated and non-traditional trade areas. Tell me about the new urban format.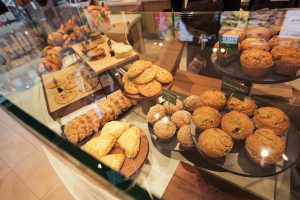 Luz: At Panera, our innovation has always been rooted in the guest and associate experience, how we can reduce friction, drive convenience and bring Panera to new places where we know the demand is high. With a flexible portfolio of cafe designs, we're now able to bring Panera anywhere, from suburban cafes with double drive-thrus, to a digital-only Panera To Go and our new urban store format — with the speed and customization our guests expect. With digital sales representing 50% of total system sales, a key part of all our new store formats is designing them to cater to the needs of an increasingly digital and off-premise guest.
Our new urban store format marries a 40% smaller footprint (2,000 square feet) than traditional bakery-cafes with updated ordering kiosks, limited counter seating, a fully digitized menu, dedicated shelves for pickup and to-go orders and a new tracking screen providing more detailed order status.
R&R: Does Panera plan any non-traditional openings in airports, stadiums, college campuses?
Luz: Our pipeline includes plans to open in non-traditional locations in 2023, such as hospitals and universities.
R&R: Which pandemic-era changes in the restaurant world do you anticipate sticking around?
Luz: While pandemic conditions — namely the inability to dine in — greatly accelerated trends that were already underway in terms of off-premise dining and greater guest adoption of digital technologies, we've seen guest preferences for digital order access persist.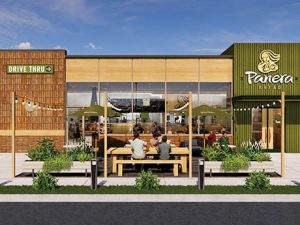 In today's environment, we see digital as a key way to provide an increasingly personalized and frictionless guest experience, especially as an omni-channel business.
R&R: Describe how Panera handles repair and maintenance. Do you use local or national vendors?
Luz: Panera has in-house regional facilities managers who work with café leaders to manage a network of outside maintenance contractors through a Computerized Maintenance Management Software System (CMMS).
We use a mix of national, regional and local service vendors depending on the scale of the work and the quality of vendors available.
R&R: How has everyday restaurant maintenance evolved since the pandemic struck?
Luz: Restaurant maintenance has increased in scale and complexity at the café level and the professional level. While general cleaning is still handled with the café operations team, larger scope cleaning is handled through one of our national contractors that we have established protocols and standards for our restaurant.
R&R: What goals have you set for your team?
Luz: Our overall goal is to consistently offer an elevated eating experience to our guests, serving food they feel great about eating. We do that by adding an extra generous touch to everything we do. We translate that overall goal into specific targets related to food craveability, hospitality, convenience and service metrics like accuracy and speed of service.
— This article originally appeared as the cover story of the February 2023 issue of Retail & Restaurant Facility Business magazine. If you are interested in having your retail or restaurant company profiled, please email the editor, Katie Lee, at [email protected]. Read past cover stories here.